WELCOME TO PRAXI PILATES!
Praxi Pilates is a contemporary Pilates studio located in Arlington, VA.
We offer group Reformer, Circuit, Fletcher, and private Pilates instruction to clients in the DMV area.
Register for classes below, or contact us at contact@praxipilates.com with questions!
PILATES REFORMER CLASSES
Using the most versatile piece of equipment in the Pilates repertoire, the reformer, you will get a full-body workout leaving you feeling stronger, leaner, and standing up taller.  The Pilates reformer is a spring-loaded, resistance training machine that allows for numerous exercises to be performed in all ranges of motion leaving the practitioner feeling balanced, centered, and strong.
Pilates reformer classes build strength and prepare you for all your functional movements in life.  You will always get a full-body workout in reformer class.  The Pilates reformer is fantastic because it can be supportive and help to perfect pilates exercises. The reformer can also be used to make an exercise more challenging by adding resistance which requires additional balance and strength to perform the movement.
Pilates reformer classes are suitable for all, including those with recent minor injuries, pregnancy, or those rehabbing an injury.
.
PILATES CIRCUIT CLASSES
Traditionally, in Joe Pilates' studio there were no group classes as we know them today. Clients basically did a "circuit" class. Each client had their own workout to complete, and they would circuit around the studio to complete their assigned exercises. Joe and Clara would oversee clients to ensure they were completing the exercises as instructed.
A Pilates circuit class at Praxi Pilates uses multiple apparatus, and is often taught in smaller groups that circuit around the studio, performing different exercises at the same time. You should expect to use the Pilates reformer, chair, Cadillac, and mat in a circuit class. You will flow from station to station in the circuit while getting an amazing workout and having fun with other clients.
The benefits of a circuit class include a quick pace that challenges your strength, stamina, focus, and memory! You will be asked to step out of your comfort zone, learning new exercises and using apparatus you may not be familiar with. Despite these challenges, the rewards are worth it! You will leave feeling stronger, longer, and leaner! Circuit classes are suitable for all, including those with recent minor injuries, pregnancy, or those rehabbing an injury.
PILATES MAT CLASSES
Group mat Pilates classes really work your core.  Mat classes are simple – you and your mat (maybe a prop or two) but no fancy equipment.  Mat Pilates is the foundation of where the practice of Pilates (or contrology as Joe Pilates called it) came from.  These classes are completely modifiable – for beginners to advanced practitioners.  Don't be fooled by the fact that there isn't any equipment; you will get a great workout using your body weight, gravity, and a few great props.  As you progress in your Pilates practice, mat class is a great way to measure your progress.
Expect to spend time on the ground (on a padded mat) and transitioning from your back, to side-lying, and laying on your stomach.  Each class will incorporate the Pilates principles.  Some movements may seem small but they are mighty and you will likely feel parts of your body that you didn't know you could "feel"!
Mat Pilates is challenging but can be modified for most injury-free clients.
.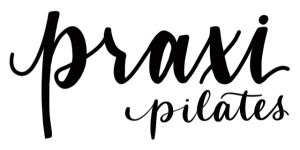 4141 N Henderson Rd. Plaza Suite 5, Arlington VA
contact@praxipilates.com